Instagram is great for businesses because it can help them create massive brand awareness.
Over the last few years, Instagram has been releasing a lot of updates, many of which have helped businesses get the most out of the platform. Instagram allows you to run ads using either CPC (cost-per-click) or CPM (cost-per-1000-impressions) models.
No matter how small or big your business is, Instagram can help you improve the visibility of your brand, reach your target audience, and increase actual sales. The average Instagram engagement rate is around 4.7%, which is much higher than any other social media platform.
Before we discuss effective Instagram promotion strategies that you can leverage, let us first understand the types of ads that you can run on Instagram.
Types of Instagram Ads You Can Leverage for Your Brand
You can advertise on Instagram by using any one of the six Instagram ad models discussed below.
1. Instagram Story Ads
Instagram Story ads appear between Stories. With 500 million users viewing Stories every day, you can easily reach a massive audience with your Story ad.
Story ads are perfect for promoting limited-time offers as they automatically expire after 24 hours. You can add five types of calls-to-action (CTAs) in your Story ads, including:
Apply Now
Book Now
Contact Us
Call Now (Video Only)
Download
2. Photo Ads
With the help of photo ads, you can showcase your products and services using impressive images.
To understand what kind of photos and visual content resonates with your audience, you can use a tool like Cortex. It is an AI-powered content tool that can help you optimize your photos for your ads.
With photo ads, you can add CTAs like:
Apply Now
Book Now
Call Now
Contact Us
Get Directions
Learn More
Get Showtimes
Download
3. Video Ads
Video ads can help you convey your message to your target audience with the added power of sound and motion. You can run impressive video ads that are up to 60-seconds long.
Call-to-action buttons that you can include in video ads are:
Apply Now
Book Now
Call Now
Contact Us
Download
4. Carousel Ads
Carousel ads are effective when you want to showcase multiple products to your audience. They allow users to swipe through a series of images or videos (maximum of 10). You can add a strong call-to-action for viewers.
Various call-to-action buttons that you can use with Carousel ads include:
Apply Now
Book Now
Call Now
Contact Us
Download
5. Collection Ads
Collection ads are a combination of photos/videos and direct response marketing that allow users to purchase your product directly from the ad. This ad format only supports two call-to-action buttons: "Learn More" and "Purchase."
6. Ads in Explore
Ads in Explore is one of the newest forms of ads on Instagram. This ad type lets you display your ads in the Explore feed. Leveraging these ads can help you reach and attract audiences who are willing to expand their interests beyond the accounts they follow.
Instagram Promotion Strategies That Actually Work
Now that we've talked about various types of Instagram ads, let's discuss a few strategies that can help boost the success rate of your Instagram advertising campaigns.
Here are some of the most effective Instagram marketing strategies that can help you increase brand engagement and improve the overall ROI of your ad campaigns.
1. Use Social Causes to Engage Your Audience
Instagram primarily consists of younger audiences, and young people care about social causes.
If your business stands for a social cause, then there are higher chances that people will engage with your message. A social cause can help you strengthen the bond between your brand and target audience.
Along with sharing your message on your own profile, you can also leverage the power of Instagram influencers to reach more people.
Platforms like iFluenz can help you collaborate with relevant influencers and run successful campaigns even on a tight budget. Such campaigns can help you reach a wider audience and enhance brand visibility.
2. Prioritize the Needs of  Your Target Customers
Creating ads that show that your business shares interests similar to your target customers can have a huge impact on the ROI of your campaigns. That's because people are more likely to convert if they feel emotionally connected with a brand.
You should leverage customer-centric strategies to build a loyal and engaged community for your brand on Instagram.
If your business provides healthy diet supplements, it's probably safe to say that your potential customers are passionate about fitness. Conducting a little research about the interests of your potential customers can help you create content that they will connect with.
RalFitness, a fitness coach, connects with his customers by regularly posting about healthy recipes and fitness tips.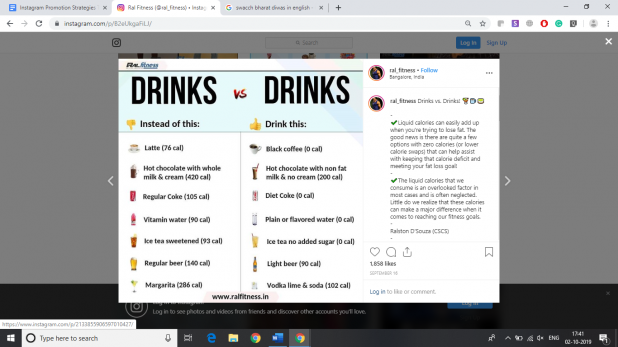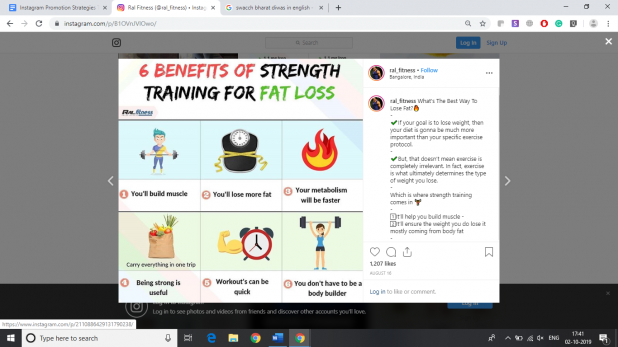 Sharing posts that can educate consumers is a great way to increase engagement.
3. Use Instagram Carousel Ads to Tell Stories
With Carousel ads, you don't need to limit yourself to use only one image per advertisement. You can add up to 10 images to tell a story to create a more engaging ad. Make sure that you enhance the quality of your images before you share them.
Instead of focusing solely on product photos, you can use in-context photos that showcase the real-life experiences of consumers using your products. You can also highlight the best features of a product and explain how it solves your customers' problems.
You can even partner with influencers in your niche to share the story of your brand through sponsored posts. Influencer marketing platforms like Influence.co enable you to find, sort, and evaluate various influencer profiles. This can help you choose influencers who are a good fit for your brand and campaign goals.
Tiffany & Co., a watch company, runs carousel ads that target male audiences with a combination of product and in-context images of their latest collection of mens' watches.
4. Showcase Stories from Your Customers
One of the best ways to build authentic relationships with your customers is to highlight and showcase their stories. You should encourage them to take and post photos while using your products.
You can then share their photos and experiences with your audience. This will help you build trust and credibility and improve user engagement. Consumers are more likely to consider buying your products when they see stories of happy customers.
The Fairell Firm leverages the power of Instagram ads to share testimonials from their customers to attract prospects.
5. Use Instagram Filters, Special Effects, and Analytics
Instagram has a set of filters, special effects, and editing tools. You should use them to enhance the quality of your images so that they look impressive.
You can use these filters to brighten your images or edit their saturation and contrast levels. You can check out the complete list of effects and filters that Instagram allows you to apply to your images here.
Final Thoughts
Instagram can help you generate engagement higher than any other social media platform. If you are not using Instagram, you are missing out on the opportunity to build a loyal fan base for your brand.
You should start by implementing the Instagram promotion strategies we've discussed above. These strategies can help you take your business to the next level.
However, if you don't monitor and measure the performance of your marketing campaigns, you can't optimize them for better results.
That's why you need to use Instagram Analytics to get insights about the number of impressions, clicks, and profile visits your ad generates. Tracking these metrics can help you evaluate the ROI of your Instagram marketing campaigns.
Do you leverage Instagram to promote your brand? Please share your experiences and tips with us in the comments below.
---
Renu Sharma is Inbound Marketing Manager at Attrock. With expertise in content marketing, she helps companies attract qualified leads, grow their revenue and brand reputations. She also works closely with influencers to help brands get more exposure in their niches. When not working, she loves to polish her marketing knowledge and skills, and watch interesting web series.